Request a complimentary quote from Conklin Honda Hutchinson
We will work with your Insurance Company to get you back on the road.

We are your top destination in Hutchinson for all your auto body and collision repair needs. We believe that no one plans to be involved in a collision. We also know that you want to put the issue behind as soon as possible and we are here to help you with that. Our advanced and top-notch auto repair shop is just what you need to erase your vehicle's collision memories. We are here to provide all the auto body and collision repair needs that you may require.

Our commitment to excellence is one of the reasons why we have the highest body shop customer retention rates in the Hutchinson area. Our customers are our family, and we undertake the restoration services within the quickest time possible. We offer the following services:
Auto Glass Repair
We perform top-quality auto glass repair after a collision. We are committed to delivering the best auto repairs using the latest technologies. During our repair process, we will first assess the location and extent of the damage, and then come up with means of delivering a perfect job. Your vehicle's glass protects you from the elements. Therefore, if it's cracked or shattered, it may not deliver the level of protection that you deserve. We are here to restore your vehicle's glass to its original state. Your vehicle's glass can be damaged in various ways, including road pebbles, rocks or debris. However, collisions remain the biggest causes of glass damage. Our team comprises of highly qualified technicians, which can fix any broken or shattered glass. Failure to repair damaged glass can lead to severe damage while exposing you to risks on the road. We are highly trained, skilled and experienced to handle all your vehicle's glass repair needs. Whenever you are looking for auto glass repair, don't go any further. Let us handle the repairs as you enjoy peace of mind during the process. Whether it's damage from a collision or a highway rock that crashed your windshield, we've got you covered. We have a team that is ready to handle all your auto glass repair needs. Let our experts restore your vehicle's auto glass luster. We are just a call away. 

Dents & Scratches

From major dents to minor dings, Hutchinson Auto Body Shop and Collision Repair is ready to handle all your collision repairs. Dents can create an ugly blemish on your vehicle, thus reducing its visual appeal. However, that should not worry you, since our technicians can correct any dents on your vehicle, using paintless dent removal technique. Before paintless dent removal was discovered, vehicle owners were forced to repaint the vehicle or purchase entire panels. The good news is that you no longer have to go through that. Our paintless dent removal process can correct any dents, and the paint will remain unaltered. We use the latest equipment to accomplish the work within a short period. Paintless dent removal is a same-day service. That dent or ding should not bother you any longer. We have a ready solution at competitive prices. We will get rid of it efficiently and quickly. Once we have finished the process, the vehicle appears as if there was no dent in the first place. Trust our experienced team of paintless dent repair experts to restore your vehicle to its pre-damage condition. The only thing we will remove is the dent while leaving the paint job intact. You don't have to drive around with a damaged vehicle. Schedule a call today and let's handle those dents and dings. 

Bumper Repair

Are your tired of the scrapes and scuffs on your bumper? Do you want to improve the appearance of your vehicle? Do you want to improve your vehicle's resale value? Well, bumper repair is not as expensive as it seems. Here at Hutchinson Auto Body Shop and Collision Repair, we deliver pocket-friendly and high-quality bumper repair services. The importance of a bumper in a vehicle cannot be overemphasized. Apart from protecting your vehicle from body damage, it protects the occupants from injuries since it absorbs the initial impact during a collision. Apart from affecting your vehicle's aesthetics, a damaged bumper also exposes the driver and the passengers to severe body injuries. Bumper repair or replacement is the only solution to a damaged one. When you bring your vehicle to us, we will assess the damage, and then determine the most appropriate solution. A repair is sufficient in most circumstances. It will remove the scratches and scuffs on your bumper, leaving it looking as good as new. Sometimes the damage may be so extensive that a replacement is the only solution. At Hutchinson Auto Body Shop and Collision Repair, your vehicle is in the hands of experts. With decades of experience, we are among the best service centers for bumper repair in Hutchinson. From framework, front-end restoration to rebuilding, we have the skills to handle all forms of bumper replacements and repairs. Our advantages include faster turnaround and competitive pricing. We understand that your vehicle is one of your most valuable investments and we will handle it with the care it deserves. If you have any questions, feel free to call our team today.
Paintless Dent Removal
For a fast and affordable repair for door dings, large dents, creases, and bodyline damage, paintless dent removal is the best option. It is more sustainable as compared to the traditional methods of dent repair and removal. Traditional methods use body filler and paint, which could negatively affect the vehicle's resale value. Apart from saving money and time, paintless dent removal is also an environmental-friendly method, since it doesn't require body fillers like traditional methods. When performing paintless dent removal, our technicians first identify an entry point, which gives them access to the dent. Creating an entry point requires careful removal of the body panels, tail lights, or even interior panels. Once our technicians gain access to the damaged area, they will then use dent removal tools to remove the dent. Our paintless dent removal technique is non-invasive, which means it will not affect your vehicle's original paint. Furthermore, it will maintain your vehicle's value. Apart from the financial benefits, it offers a faster turnaround time as compared to the traditional methods. Depending on the extent of the damage, you should have your vehicle back within a short period. Don't allow those dents and creases to give your car an ugly look. Bring it to us, and we will remove them immediately.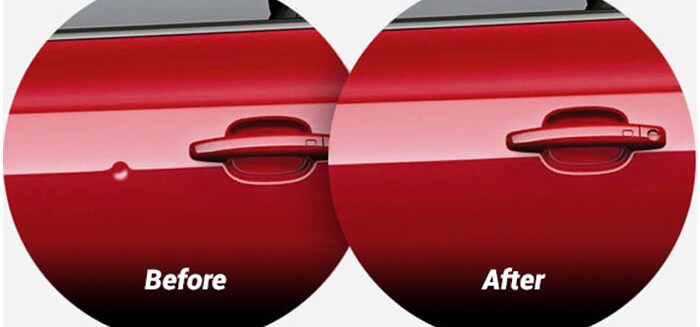 Whether it's due to vandalism, normal wear and tear or a collision, your vehicle will require re-painting one day. paint-matching on a vehicle is one of the most challenging tasks to accomplish. We are committed to the highest standards of honesty, excellence as well as professionalism. While some repair shops work for insurance companies, we work with the customer. As our client, you can rest assured that we will meet and exceed your expectations. Our paint technicians have over a decade of experience. Only certified technicians can handle the painting job on your vehicle. Whether your vehicle is foreign or domestic, we can handle them all. Our services include cosmetic repair, total restoration services, and complete collision repair, among a wide range of other services. Whenever your damaged vehicle comes through our doors, we ensure it leaves looking brand new. We have installed state-of-the-art equipment to handle a wide range of vehicles. We can also prepare full estimates for you to determine the expected costs after the restoration process is complete. We use environmentally friendly water-based paint. 
Conklin cars body shop is I-CAR GOLD CERTIFIED. Our experienced, friendly technicians have the finest training and education in collision repair. We provide superior auto body repairs, quality workmanship, and excellent customer service.
We offer a wide variety of beverages in our climate controlled waiting area and complimentary WiFi.
Lifetime warranty on workmanship and paint